Click here for

my posts in English
or go here for you to get more details about
INconstantIN

!
------------------------------------------------------------------------------------------------------------------------------------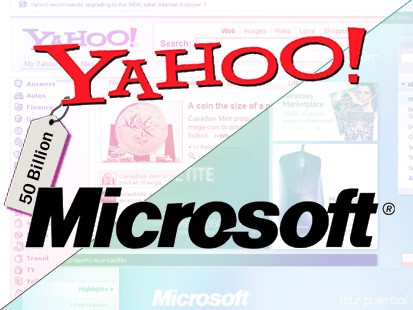 Here is an important update to complete my post
Google troubled by Microsoft move. A quick press review on the Microsfot Yahoo deal
Microsoft has begun lobbying Congress even before its $44.6 billion bid for Yahoo has been accepted, while Google, the real object of Microsoft's concern, has started to raise objections on Capitol Hill.
Top Microsoft executives, including General Counsel Brad Smith and Jack Krumholz, head of the company's Washington office, contacted the offices of key lawmakers on Friday, one day after the unsolicited bid for Yahoo was announced. The company's approaches, made by e-mail and phone, were largely informational, according to congressional aides. The executives explained what the bid was and what advantages they saw in its completion. They also said they wanted to come in later to talk about the transaction at greater length, especially in advance of any hearings on the subject.
Google's lobbying, on the other hand, was unusual because the company is not involved in the proposed acquisition. Still, lobbyists for the Internet search engine, which has raised its misgivings in public pronouncements, spotlighted those objections for lawmakers and their aides over the past few days, congressional staffers said.
Washington decision makers are gearing up for what could be a major policy and legal battle over Microsoft's surprise offer. Technology industry executives and consumer advocates are pressing officials to think hard about the merger, which may have major antitrust and privacy implications.
Read here the full story
Microsoft, Google Come Out Lobbying