------------------------------------------------------------------------------------------------------------------------------------
There is a bunch of contests held by bloggers within the Entrecard network that I took part in. However, none of them would bear even a comparison to
the contest at JoeTech
.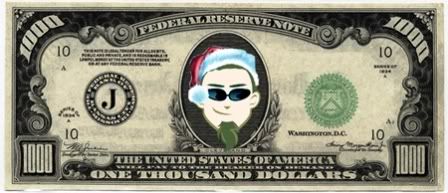 First of all because the other contests stipulate as a rule one, or at most three main possibilities for a blogger to win it. This is either "subscribe to my posts", or "write on your blog about this contest" and that's all!

Secondly, I really would not understand bloggers who enlist in contests the winner of which is to be announced as a result of a lucky and absolutely random pick-up. This seems to me childish, if not stupid.


With JoeTech contest the situation is totally different. Firstly, because there is quite a wide range of possibilities to earn as much entries as possible. Here they are:


- Comment on the
JoeTech contest post
(1 entry)
- Sign up for my RSS feed via email (10 entries)
- Favorite JoeTech in Technorati (10 entries)
- Write a post about JoeTech contest (MUST link back to this post) (50 entries)
- Write a positive review on your blog (MUST link to Joetech.com) (100+ words) of JoeTech.com (100 entries)

- Stumble one of JoeTech articles (20 entries)
Secondly: everyone is a winner, because as Joe says: "In my post to announce the winner, I will link back to any blog who posted about the contest, added me to their blog roll, or reviewed JoeTech.com. Additionally, I will have more prizes (to be determined) to give out to those who enter".

Now that I have already got your interest, just have a look at these great awards: "I have decided to give away a free 1 month ad block and Entrecard credits every month. So not only can you enter to win $100 every month of 2008, but if you have your own blog (or just about anything else) to promote, you can now win that 125x125 banner right up at the top in my header for a full month. Better still, I'm giving away another 1,000 ec so you can get your ad on a bunch of sites in the Entrecard network!"


Well isnt't that great? More than that, if your site or blog has an alexa rank under 50,000, JoeTech doubles your entries! This is a simply wonderful contest and I am encouraging you to enlist as soon as possible, because there are only 6 days left. Good luck, everyone!